David Bow6 is a son of Samuel5 (Peleg4, Alexander3, Samuel2, Alexander1) & Mary (Arnold) Bow. He was most likely born between 1785 and 1805 in Middletown however there is no extant record.
On April 1st, 1818 in Cumberland County, NC, he married Sophia Williams Hybert. She was born in Canada to John and Mary (Williams) Hybart (sometimes Hybert).
They had one known child, William, born in Fayetteville in 1819.
On the 1820 census, David's household of 7 includes: 1 free white male under 10, 1 free white male age 26 to 44, 1 free white female age 26 to 44, 3 male slaves under 14, and 1 female slave age 26 to 44.
Sophia died on 15 Aug 1822 in Fayetteville.
David died 5 years later leaving William an orphan.
David's brother Seth refused to administer the CT portion of his estate (14 acres on Bow Lane in Middletown valued at $350) so the court appointed administrator, Seth Camp, sold the land from the courthouse steps on 24 Oct 1828 to Samuel Fairchild for $350 effectively making the CT estate insolvent.
Young William was raised by his mother's family; mainly by his uncle Thomas Lewis Hybart. Thomas was a lawyer, newspaper publisher, and representative from Fayetteville in 1835 to the NC House of Commons. He was said to have "a ready tongue and a trenchant pen" and was a strong supporter of General Andrew Jackson. He was one of the managers of a subscription ball in 1829, indicating that he was active in the social life of the area. When a fire destroyed a great part of Fayetteville in 1831, the house of T. L. Hybart, Esq., located at the intersection of Union and Mason streets, "was saved only by great effort."
The Hybart family was in the turpentine business and William was raised in the way of turpentine. As such, he inherited the business when Thomas died in 1847.
William put his uncle's old law office up for sale 3 years earlier than requested in the will. The rental property business must not have been booming in 1849.

In 1852 he received a passport but I haven't been able to track his travels.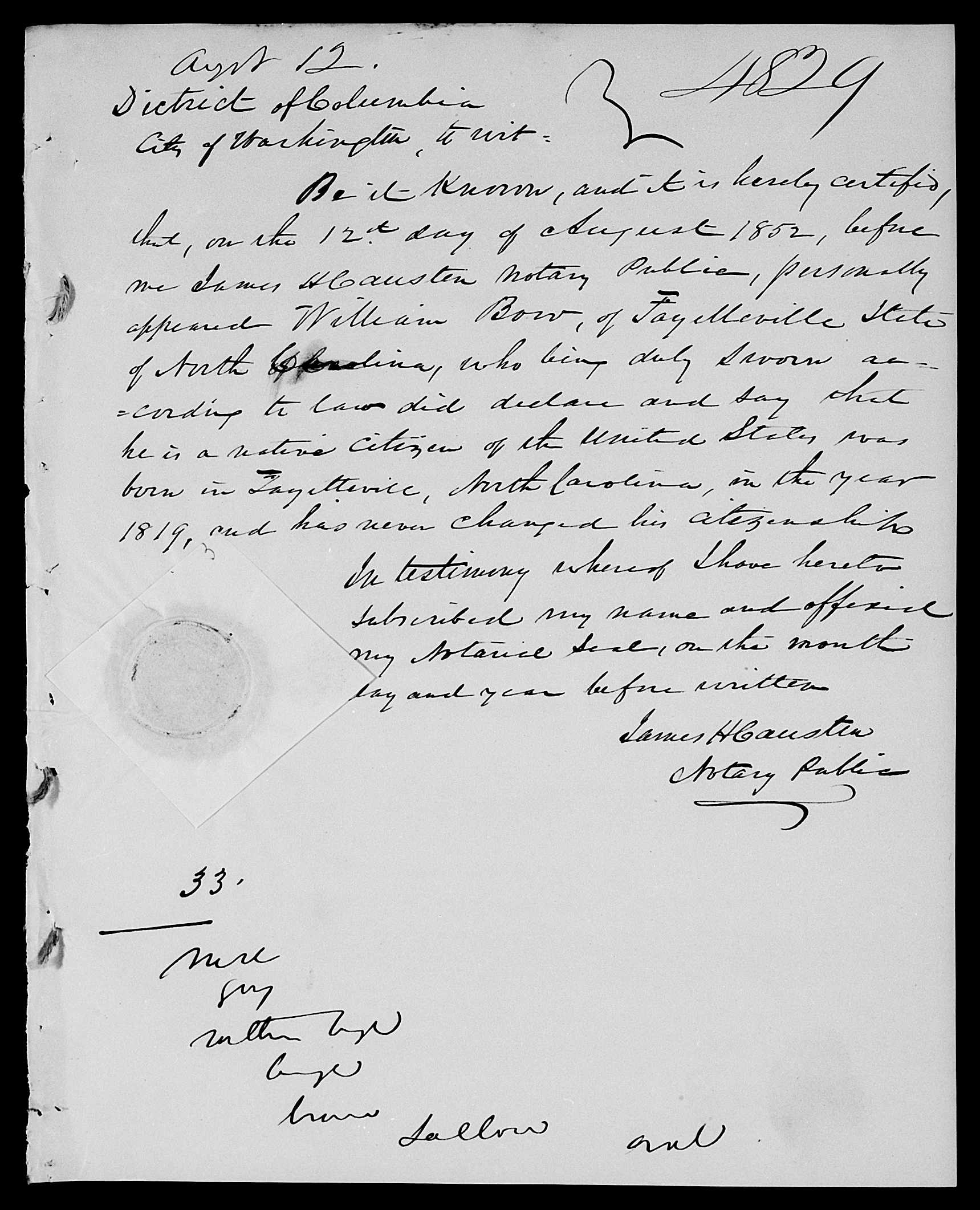 By 1854 William was out of the turpentine business and was now a grocer and "negro agent" with a shop on Haymount Street.


The Civil War found William being tasked with overseeing the building of a small pox hospital. The war took a toll on William's professional life so he converted his business acumen into a new accounting occupation. He was also selected Tax Assessor in 1860 and 1869.
I have found no evidence of William and Lucille having children. They both died in 1887;
Lucille
in November in Middletown and
William
in December in Fayetteville.
Question: Seth's declination letter states he is the only brother living in CT. Is there another brother somewhere? If so, who?